Program Item Details
TITLE: Dr. Kim Raine, University of Alberta

SUBJECT: #256 Obesity vs Social Environment

SYNOPSIS: If you canít lose weight, it might not be your fault. Nutritional sociologist, Dr. Kim Raine, says your cultural and physical environment may be to blame.

AUDIO: Download Audio (mp3 format)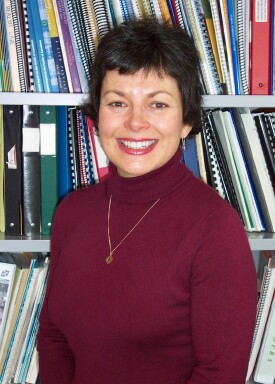 TRANSCRIPT:
#256 April 26, 2008
Interview starts at 11:36
Intro: If you keep losing the battle of the bulge, donít blame yourself. The real problem could be the world around you. Society has changed.

And in the words of Dr. Kim Raine, todayís social and physical environment is ďobesogenicĒ.

Kim studies the sociology of nutrition and sheís the Director of the Centre for Health Promotion at the University of Alberta.
Dr. Kim Raine
KR: Weíve seen rates of obesity go up very quickly in the last 20 years. Itís probably apparent that our genetic makeup hasnít changed in the 20-year period. Our behaviors have. We are eating more. We are exercising less.
But I think even more fundamental, we donít make those behavior changes in a vacuum. Our society has changed. We are living in a society that promotes overeating and promotes being sedentary.
And so, itís the ways in which society has changed that weíre trying to explore. But even more importantly, how can we change those things to make it easier to attain a healthy weight.
CC: HOW DO YOU GO ABOUT FINDING OUT THOSE THINGS, DETERMINING WHAT THOSE FACTORS ARE?
KR: Thatís a really good question. Weíve started off with an extensive review of other studies that had been done in the area. And basically what weíve found out is there are a variety of things that have happened in the physical environment. Physical environment is things like just the way our cities are structured. Our cities are structured more for vehicle traffic than for walking or cycling. Itís becoming much more difficult to walk safely to work or school. Our schools, for example, are not even being built in new neighbourhoods. Kids are being bussed into established schools. So things like that have changed.
Also in our economic environment, one of the things that we noticed is that obesity tends to cluster in lower income and lower education categories. It seems kind of counter intuitive because you would expect if you had a lower income you would eat less. So one of the things that we wanted to do is explore why might that be. And some of the research that we have done has shown things like clustering of fast food restaurants in lower income neighbourhoods. So people are more exposed to high calorie, high energy dense, not necessarily the most nutritious foods.
Some of the other things, some of the other environments are policies, the political environment. I know when I was growing up, Iím not that old, there were no such thing as pop machines in our schools. And weíve become almost dependent upon the revenue from things like pop machines in schools to pay for day-to-day functioning and books and that sort of thing.
So thatís a policy thatís happened at a local level and perhaps even a policy of a broader cutback in funding to the education sector that has influence.
So what we trying to do is look in a systematic way at how some of these things are happening and where there are opportunities to intervene.
CC: WELL IN A SENSE THEN WEíVE CREATED WHAT YOU MIGHT CALL A ďTOXIC ENVIRONMENTĒ THAT LEADS TO OBESITY. IS THAT CORRECT?
KR: Definitely. Actually, Dr. Kelly Brownell, who is quite a well known researcher in the US, has coined that termĖa toxic environment. And so we, yeah, our environment is promoting obesity. Itís obesogenic!
CC: YOU HAVE QUITE A WIDE VARIETY OF SPECIALITIES ON YOUR TEAM. WHAT ARE SOME OF THOSE? WHO ARE YOU PULLING IN?
KR: Well thatís the thing. This is a complex problem. Itís not a simple matter of we should eat less and exercise more. So, not one single person can really do the research necessary to get the big picture of how things are happening.
My background is in nutrition but in the sociological side of nutrition as opposed to what happens to the food once itís in your body. I have colleagues on our team that have backgrounds in physical activity and physical activity behavior and what influences that. We have a geographer on the team. That seems kind of strange but geographers are interested in how place influences your health. So things like the way our environments are structured is definitely a geography issue.
We have anthropologists on the team. Our anthropologists our helping us explore how culture has changed from a couple of perspectives. One, from a more obvious perspective, we have a higher immigrant population. Well, whatís happening to people when they come from other countries? Are they also becoming obese? Yes, indeed they are. But also, on a more general level, basically over the past 20 years our culture has changed. Itís a more obesity promoting toxic culture. So thatís the anthropologistís per view.
We have psychologists to explore how these environmental issues affect our psyche and how that might be motivating our choices.
We have a political scientist who helps us to analyze the policies and figure out how policies have changed over time and how that might impact these things.
CC: WELL ONE OF THE SHIFTS TOO HAS BEEN IN PERSPECTIVE. WE USED TO LOOK UPON OBESITY AS BEING AN INDIVIDUALíS PROBLEM. WELL, YOUíRE JUST NOT DOING ENOUGH TO TAKE CARE OF YOURSELF. WHEREAS NOW THAT SEEMS TO HAVE MOVED MORE INTO A SOCIETAL PROBLEM. WHY IS THAT AND HOW WILL THAT CHANGE YOUR RESEARCH AND YOUR PERSPECTIVE?
KR: Iím actually hoping that some of our research has helped to move that perspective. Ultimately, individuals are the people who choose whether or not to walk or they choose whether or not to put something in their mouth. But when your choices are limited by whatís available, then obviously it goes beyond an individualís choice. So we may think we have free choices, but theyíre not as free as we initially may think on the surface.
So, I look at it in a very positive light when I see it moving toward looking at more of the societal solutions as well as problems, in that it doesnít blame the victim. It doesnít put all of the responsibility on the person for their less than ideal choices. It helps to make an environment that supports people in making their choices.
So, I think that in order for change to happen, we need to have changes on multiple levels. Itís not just a matter of teaching people how to cope with this environment that weíve built.
CC: ARE YOU JUST LOOKING IN THE EDMONTON AREA?
KR: Uh no. A lot of our sub smaller projects are indeed in the Edmonton area. For example, one of my graduate students mapped out where are the fast food restaurants were in the City of Edmonton and then he compared where they were to the census tracked information around income. And he found that people in low income neighbourhoods were exposed to 2.7 times more fast food outlets. Thatís just one of those numbers that rolls off the tongue.
So that helps to demonstrate that this is indeed happening locally.
But we are looking at a much broader scale as well. Such as, you know, one of the projects weíre currently involved with is actually an international project where weíre looking at advertising to children. And so what weíve done is, the Canadian arm in several provinces in Canada on a given number of days in January, the weekend before Super Bowl, we actually taped all childrenís programming on a select number of channels from 6:00 a.m. to 10:00 p.m. everyday for four days. And what weíre in the process of doing now is looking at the advertisement. What are those advertisements for? When it is food or exercise or physical activity related, is it a positive message? Is it negative message?
We donít have the results of that yet, but this is a study thatís actually based out of Australia. There are participants in multiple countries. And it will give us a baseline of, such and such country, such as Sweden for example has regulations on advertising to children. So does the province of Quebec interestingly enough. Do they have different levels of obesity than the provinces or countries that donít.
So weíre participating in a much larger scale than just Edmonton.
CC: WHEN YOUíRE LOOKING AT A BROAD RANGE OF FACTORS, EVERYTHING FROM THE FOOD AND NUTRITION TO ECONOMICS AND POLICIES THAT GOVERNMENT MAKES, WHAT CAN YOU EXPECT TO COME OUT OF THIS RESEARCH IN TERMS OF CHANGES OR RECOMMENDATIONS FOR CHANGE?
KR: Thatís really the whole purpose of the research. Itís one thing to understand how it works, but the reason that we want to understand how it works is so we can make change.
I think what has happened in the last few years is people have said, oh my gosh, this is a really problem, letís do something about it. Letís, for example, ban vending machines in schools. Well, is that actually a reasonable thing to do? Would we expect that to solve the obesity problem?
What our research can do is say okay, that may help. But itís unlikely to solve the entire problem. So donít feel that it is a disappointing outcome when you donít see obesity rates go down rapidly among kids if thatís the only thing you do in schools. So letís look at what else you can do in schools.
So we can look at the collective efforts. Our research can look at the little pieces and see what the impact is. And then also look at collectively, not just look at vending machines, but letís have a healthy food policy in the cafeteria. Letís have, in Alberta theyíve instituted daily physical activity as a policy across the province. Letís look at putting nutrition and physical activity into the curriculum. And what is the combined effect of all of those things.
So it helps us to advise as to what to expect, where some promising interventions might be. Or where it might not be particularly popular, so maybe we should wait on that until the public is ready.
CC: THANK YOU VERY MUCH, KIM.
KR: YOUíRE WELCOME. THANK YOU.
Dr. Kim Raine, is Director of the Centre for Health Promotion Studies and a Professor in the School of Public Health at the University of Alberta. Her research is supported in part by the Alberta Heritage Foundation for Medical Research.
FEATURED LINK:
Alberta Heritage Foundation for Medical Research