Program Item Details
TITLE: Kieran Gunning, Vice President and General manager of Global Operations, Flextronics, Calgary

SUBJECT: #217 2006 CTI Showcase

SYNOPSIS: ..

AUDIO: Download Audio (mp3 format)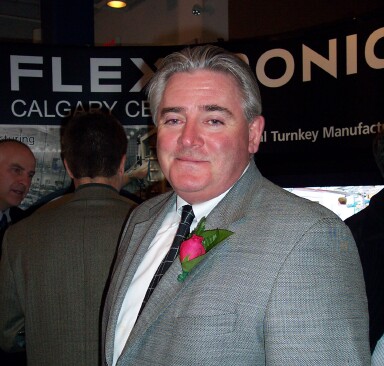 TRANSCRIPT:
#217 November 17, 2007
Interview starts at 12:04 Intro: CTI's home is the Alistair Ross technology Centre. And at the resent 2006 CTI technology showcase the building was filled to the rafters with the sounds of bagpipes and dozens of companies displaying their gismos, gadgets, and services.
Keiran Gunning
KG: My name is Keiran Gunning, I'm general manager of Fllextronics Calgary.
CC: NOW WHAT'S FLEXTRONICS?
KG: Flextronics is ems, an electronic manufacturing services provider. So we provide services to the all industries of electronic manufacturing here in Calgary.
CC: HOW DO YOU DO THAT?
KG: Well we're a global company, we're about 130,000 people worldwide. But in Calgary we have about just under 1000 employees that are dedicated to manufacturing products for a number of industries here in this area.
CC: I SEE BY YOUR SIGN HERE THAT YOU CALL YOURSELF A TOTAL TURN KEY MANUFACTURING SOLUTION. WHAT DOES THAT MEAN?
KG: What it means, is we're offering through the marketplace, that they can come and get all their manufacturing requirements from us, from supply chain, logistics, repair and return, and straight manufacturing. And we'll handle all of that, to allow other companies to go and expand their business at what they're good at. Well provide the products, you expand your business and grow your business.
CC: SO WHAT DO YOU HAVE ON HAND THAT ALLOWS ALL THESE DIFFERENT COMPANIES TO TAKE ADVANTAGE OF THAT?
KG: Well we have many different types of manufacturing systems. But the main thing that we have on hand is our work force. As I say we have just under a thousand employees of all capabilities , engineers, professionals, supply chain professions, etc. All kinds of capabilities. And we can apply that to solve issues solutions to any kind of operation.
CC: SO WHAT ADVANTAGE IS THAT THEN TO A SMALL COMPANY COMING IN TO SEE YOU?
KG: it works in many ways. For a small company we can get their products to market. So they don't have to worry about that. We can provide all the supply chain expertise and get a cost effective product to market. To an existing company that is in a growth, and a lot of the companies in Alberta at this moment and time are experiencing astronomical growth. We can provide that growth capability so they don't have to worry or go out and get the resources, they can use our resources to grow their company
CC: THANK YOU VERY MUCH.
KG: You're welcome thank you.
Keiran Gunning is general manager of Fllextronics Calgary.

FEATURED LINK:
Flextronics