Program Item Details
TITLE: Bill Buxton, Principal, Buxton Design and Senior Researcher, Microsoft Corp.

SUBJECT: #187 Bill Buxton Delivers First Annual Alberta Ingenuity Lecture

SYNOPSIS:
What if Leopold didnít have a piano? That was the question posed by designer and philosopher Bill Buxton in his lecture sponsored by Alberta Ingenuity. A musician by training, a scientist and pioneer in computer graphics by reputation, this brilliant thinker has lots to say about changing our perspective on innovation, technology and being human.
AUDIO: Download Audio (mp3 format)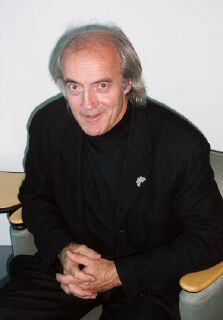 TRANSCRIPT:
#187 January 17, 2005
Starts at 1:04
Intro: Time Magazine has named Bill Buxton as one of the top five designers in Canada, and the Hollywood Reporter called him one of the ten most influential innovators in Hollywood. As chief scientist at Alias/Wavefront, his work helped the company receive an Oscar in 2003 for its contribution to movie-quality animation. In the last few weeks, Bill has joined Microsoft as a senior researcher.
When Alberta Ingenuity sponsored its First Annual Ingenuity Lectures at the end of November, the guest speaker was Bill Buxton. Bill toured Alberta, speaking to audiences of researchers and scholars in Lethbridge, Calgary and Edmonton. Here's a taste of he had to say when he was in Edmonton.
Excerpt from lecture
* * * * * * * * * * *
Interview starts at 4:59
Intro: I had a chance to sit down with Bill Buxton after he delivered his inspiring talk. His thoughts on encouraging creativity to support an innovation economy were refreshing and challenging. As a designer, Bill says he's the best at what he does, because he's the only one who does what he does.
Bill Buxton
BB: I have to say, so I donít come off as total egomaniac, is the corollorary to that, too, is that Iím also the worst at what I do, because Iím the only one who does it.
So I guess what I do is - hereís one way to say it. I used to half jokingly say that my career was based on the fact that I couldnít work computers, but I had the insight to realize and convince people that it wasnít my fault. That it was the computerís fault, and by the way, hereís how to fix it. So I wasnít just whining, itís not me. But by the way, hereís how to fix that problem. And since that was a potent and rich field because there were so many things wrong with computers in 1970ís when I started using them that I had a lot of exercise. I got better and better at it, I guess would be a way of saying it. And the skills from looking at just computers from the perspective of being a human trying to use them transferred somewhat to looking at other aspects of technology, whether it be things around bicycles, or things around almost anything you can think of. Maybe bringing a different perspective to design, and how things could be, versus how they are.
But the most important element is bringing the human side into it.
And by the way, I donít mean itís just about usability. I want things that delight as well as are usable. Itís not just this functionality kind of thing. Itís like, what makes my life better? Whatís enjoyable to use? Itís like that kitchen knife you use, if you lose it, youíre furious. You just donít want to cut a tomato with anything other than that one knife? What made that knife have those qualities and what are those qualities? How could you put it in all these things we use?
Itís like a beautiful musical instrument that you just caress. Maybe the musician in me brought that out.
Hereís another way of how I say it. I believe that musicians that have a longer history of expressing powerful, important, deep things through a technological medium than any other profession. Except perhaps war, military, but then those arenít necessarily powerful ideas. So, the musical instrument in some ways is something very precious. But how theyíre designed? Itís very interesting that Stradivarius wasnít a particularly good violinist, but he made the worldís best violins.
And what is it in the design of those instruments, and what was in the craftsmanship? What was in it was a respect for the violinist. So the moment you picked up that instrument, you felt the respect for the hours and hours and hours youíd spent practicing reflected by the tool so it made you even a better violinist. I think anything we design in terms of tools and our culture and a society could and perhaps should have that property, that built in respect for the effort that had been invested to acquire the skills to make full use of it.
CC: AS A DESIGNER THEN, HOW DO YOU INTEGRATE DESIGN INTO COMPUTERS AND TECHNOLOGY?
BB: With great difficulty. In essence I left the last company I was with because I failed at doing so, which is much my problem as anyone elseís. We donít live in a design culture that understands even what a designer is or why design is necessary. We tend to think ďwe need something, letís build itĒ as opposed to thinking about it before we start. Canada does not have a strong tradition in design although there are some wonderful designers here. And I also have to also say thatís changing, thank goodness.
But the critical thing is, it comes back to this notion of problem ďsettingĒ versus problem ďsolvingĒ. Problem setting is a term that came from Donald Shaum in the 1960ís. How I think about it in design is, itís not simply about getting the design right, but what is the right design that we should be getting right. And so we have to do both.
And most people glom onto the first idea they have and then try to turn that into a product and ship it. As opposed to doing ten ideas, and then comparing them and trying to understand them and taking the best attributes of the ten and making an 11th and so on. And then even throwing that away and starting again.
Design is a process. It involves sketching in some form or another as one of the main attributes that you find throughout the design process, where we do really quick things early. I try to bring that into the design of technology-based products.
So the short answer to your question, what do I do about? Well, I walked away, licked my wounds, and then spent three years trying to figure out, what did I learn. Either my previous experience had been a failure, or it had been a really expensive education. And since I chose to take it as an expensive education, then what did I learn from it? What did I still need to learn? And then, Iíve been writing a book about it. And while Iíve been writing Iíve been testing everything Iíve been writing about in terms of the clients I work with to validate that Iím not talking through a hole in my hat.
CC: TODAY YOU WERE ADDRESSING PEOPLE ASSOCIATED WITH THE ALBERTA INGENUITY FUND, MANY OF THEM SCHOLARS AND RESEARCHERS. AND WHAT YOU BROUGHT UP WERE THESE IDEAS. YOU USED WORDS LIKE CULTURE AND VALUES AND ECOLOGY, LIKE THE ECOLOGICAL PERSPECTIVE OF INNOVATION. WHAT DO YOU MEAN BY THAT? WHY DO YOU USE THOSE TERMS?
BB: Well, because I think theyíre the correct terms. And language is important. We have a notion of ecology in terms of what we need to do in terms of the rainforest, gases, global warming and so forth. But our social and cultural ecology is just as important.
I opened up talking about Mozart in the classical period. What if Mozart didnít have a piano? You can actually go and do analysis of what was it that allowed something like Mozart to happen. It wasnít just that he chose his parents right. Besides choosing his parents well, he and his parents also lived at a time when music was valued. There were beautiful instruments. There were places to play them. There were people who could perform them. There were audiences willing to listen to them. There were patrons who were willing to fund them. There were concert halls where you could perform them. All of that was the larger ecology that enabled it.
Mozart wasnít a fluke. You couldnít predict that he would happen over somebody else. But I view it in this sense, that there was an economic, a social, a physical and cultural ecology which was conducive to that type of thing happening. And that ecology was different than anywhere else in the world. At that point in time, it was in Austria in the area around Vienna and Salzburg and that area around central Europe. It wasnít in England, for example. It wasnít in France. It wasnít in Italy.
But on the other hand, you could say what was the ecology in the renaissance. We could choose a different example that enabled things to happen there. And many people say, oh, it was the time and history. We just had these people who were geniuses. Well thatís not true. There was a farm system in place in Florence that was every bit as sophisticated as the farm system we have here in Canada in minor hockey to develop the next Wayne Gretzky
Donatello would never have been heard of were it not for the farm system. He was just there as a worker within someone elseís studio doing some work. His talent was recognized, again, by the Medici who were necessary, just like the Archbishop of Salzburg was important to Mozart. And so his talent was recognized, but it wouldnít have been recognized if there wasnít a forum where he could develop that talent to have it recognized. Then he grew and got his own team, so to speak.
We can go anywhere through history and start to see that these things donít happen in vacuums. As long as we persist in this notion of the individual genius, the superstar, the great scientist, baseball player, hockey player, that itís all about the individual star, as opposed to everything that got them there, weíre going to miss the boat.
And I think that in this cult of the individual within our culture today, weíve bought into that cult of the individual. And if we actually believe it, as opposed to recognizing itís a myth, a total fallacy that just lets us go, weíre really in trouble.
But on the other hand, while the rest of the world persists in living in this cult of the individual, or believing in it, or acting as if thatís the way, the most innovative and genius thing we could do is to say, hey, weíre the first jurisdiction to see things differently. And to seed and create a culture or and environment or an ecology where the types of things we want to happen are more likely to happen here than anywhere else.
Of course, that begs the question and this comes down to the question of values. Letís say we buy into everything I just said. Then the most important question is, what are the things we value? What is it we want to encourage? Whatís important to us? And too often, we donít even bother asking those questions.
CC: YOUíVE TALKED A LOT ABOUT ART, AND THE CULTUREOF ART, AND YOU BROUGHT THAT UP AS WELL IN RELATION TO RESEARCH AND OUR HIGH TECH EMPHASIS ON THE KIND OF INNOVATION THAT WE DO NOW. WHAT IS IT THAT YOU FEEL IS MISSING FROM OUR CULTURE TODAY IN TERMS OF MOTIVATING PEOPLE TO BE INNOVATIVE?
BB: Well, thereís an exceptionally large number of scientist who happen to have a background and a strong background in the arts. I choose to believe, and I believe with justification, thatís not a coincidence. You donít have to be a rocket scientist to accept at least as plausible that exposing a child to creative arts during their formative years may have some influence on their future creativity.
If we take the creative arts, and by the way, I think sports is a creative art of some form or other, and industrial design or shop out of schools, if we take those things out so we can focus on math, sciences, these hard, important things, the 3Rís and so on, we shouldnít be surprised that we come out with people who are far less creative. They might be really great technicians, but in terms of being creative - and by the way there are really good technicians all over the world, thatís why thereís so much outsourcing to India, for example, and other countries like that - the question is within Alberta, if we want to be creative, what makes a creative individual?
Well, one way to do is, letís take an anatomy of a broad cross section of creative people, people we accept as creative, people want more of, people like them, what are their backgrounds? And I think if you scratch beneath surface, ust see, people who are really excellent in whatever discipline, whether its journalism, writing, science, engineering, law. Youíll see the creativity was probably derived some other expertise that was complementary and fed into it.
CC: BACK IN THE SEVENTIES WHEN YOU WERE WORKING AT THE NATIONAL RESEARCH COUNCIL, DALLYING, I SUPPOSE IN GRAPHIC DESIGN, WOULD YOU HAVE EVER IMAGINED THAT YOU WOULD HAVE HAD THE IMPACT ON HOLLYWOOD, MOVIE MAKING, THAT YOU HAVE TODAY.
BB: No, not at all. And in fact, to be honest, at around 1969, 1970 when I was up at the National Research Council, I was a music student and I was actually there doing music rather than animation. The computer used during the days at that time by a filmmaker named Pierre Faldez, who made a very famous film for the National Film Board called ďHungerĒ or ďLa FaimeĒ. And it was the first computer animated film to be nominated for an Academy Award. It didnít win the Academny Award but it won a prize at the Cannes Film Festival. Pierre would end and I would come and I would be doing music for a film.
So my initial thing was, I was never a graphic artist. The computer graphics were there as a form of doing notation. If you think about music, you think about notation. And so, if you could actually notate music graphically, and the interface graphically. There was a mouse in the system. Think about it, this was 1970. Now that MacIntosh came out in 1984. This was fourteen years before the MacIntosh came out. I was already using a mouse and there was a piano keyboard hooked up. I could play stuff on the keyboard and have it go in andhave it notated, pretty crude, but common notation on a graphic screen in 1970 at the National Research Council. And that same computer was being used to do animation.
So no, absolutely not. Iíd never seen a computer before. I hadnít even thought about it before. Ďd never seen a computer even. My step-brother said I should learn about computers. I didnít know what a compIter was, but I played a synthesizer. So I had an apptitude for electronics. And none of us did.
The main reason the National Research Council was using filmmakers and musicians at the lab was because we were doing, letís say, deep and intelligent things, hopefully, we were highly skilled professionals. But we werenít like doctors and lawyers and so on who, thereís no way theyíre going to be working from 6 in the evening til 2 in ther morning on a flakey system thatís crashing all the time. The interesting thing about using filmmakers and musicians Was that we were not only doing serious things, but we were willing to put in the hours and deal with flakey things because we were passionate about it. And moreover, we were creative, so the suggestions we made might be pretty good. So their purpose was not to build a music system or an animation system, but rather to understand human-machine interaction.
And the most interesting thing about it, the greatest piece of genius that underlay their work, was they had the insight, the genius to choose music and animation as the domain. And it paid off in spades. My career is almost totally dependent upon, it got its start from that and the people around that world. It completely changed my life
And that environment at the National Research Council in 1970-1971 was my Mozartís piano. It had the same impact.
CC: HOW DO YOU FAST FORWARD THAT TO WHATíS HAPPENING IN HOLLYWOOD TODAY?
BB: I love filmmaking. I love industrial deign. And I try to spend as much time as I can in those different areas. On the filmmaking side of things, I love the technology of film. But I have lots of really creative films and I look at the cost of making films and I realize that so many people who have great potential as filmmakers, the ecology does not invite young filmmakers to make a commitment to a career. I know the impact that technology had on my ability to make a career as a musician. And many of the others. Urban music, if you want to say it that way, technology made, urban rap music, if you think about it aesthetically, is a very important cultural phenomena, and it enfranchised a lot of people to break out of lives that may not have been anywhere near as good. On the filmmaking side, there are tons of creative people who donít have $10 million to make a film. So how can they make quality films and get there through practice. A bunch of bad films can get to the point where they can reliably make a good film. Again, itís all about practice.
Technology can help greatly, and the wonderful thing about it is, Canada is one of the leaders in this. So in terms of the software, we dominate the use of computer graphics animation in the word. The best movie camera in the world, digital movie camera, is from a company called Dalsa based in Waterloo, Ontario. It just rocks. I love working with those guys. The best digital projectors in the world are made in Waterloo, Ontario, from a company called Christy. You start looking at all that.
Within Alberta, I was out at Canmore yesterday and Brad Pitt is shooting a film there. There are films all over the place, in Toronto, Vancouver. Film is important economically, artistically, and in all these dimensions. And hereís the kicker. For the most part, in Canada, a lot of the filmmaking is here only because of tax incentives and a low Canadian dollar. My view is, and not only because I love film Ė I like filmmaking, I love the process of film, the technology of film Ė but I also want this filmmaking to stay in Canada. So what I would like to do is say, how can technology and design make it so that films are still made in Canada even if the Canadian dollars was $1.25 US. And that itís here because we make films, we do the process better than anyone else in the world. Even at a $1.25 exchange rate, itís still better to make them here because weíre faster, better and higher quality.
CC: YOU SAID THE FUTURE IS NOW. SO WHAT IS COMING UP OVER THE HORIZON?
BB: What is going to happen In the next five to seven years is very high resolution displays, that is as many pixels per inch on the display as you have on your laptop screen. They are going to be cheaper and thinner, but cheaper per square foot than the whiteboards that are on your walls today. I repeat, to get a really, really, really high resolution large display the size of the whiteboard in your classroom or your office is going to be cheaper than the whiteboard that you have there currently.
And itís going to be 6 mm thick. Thatís a little bit thicker than a piece of paper and itís going to cost around $10 a square foot. And itís going to transform completely how we think about information and information displays and how we interact with them.
CC: WHO IS DOING THAT NOW?
BB: There are a number of companies, none of them Canadian, doing the basic technology. Phillips is doing a lot. Some of the core technology is being done in Cambridge England by company called Cambridge Display Technologies. So thereís a lot of materials, itís very expensive stuff. Thereís a ot of cooperation with companies like Sharp and Mitsubishi and other companies in Japan. But I donít care about the technology, I just know itís coming. The question is, who is going to be smart enough to know what to do with it once it arrives? And thatís where there is an Alberta company called Smart Technologies in Calgary which is the world leader in electronic whiteboards.
And if you want to understand the impact of what these large display surfaces is going to be, itís not about having a big screen TV. Thatís the consumer level. Think about the transition in the 1800ís - in Alberta it happened around the 1860ís - of the transition from the slate in the classroom, that is, the personal blackboard to the wall mounted black board. Because all the blackboard was, was a big slate screwed in the wall. Thereís no real technological innovation at all. That transition had more impact on classroom education in Alberta than the development of cheap paper which came later, than the development of the internet, and the development of the PC, and perhaps all three put together.
CC: WHY IS THAT?
BB: Because it fundamentally changed the social contract and the social-political structure of the classroom, because it was a public technology rather than a private one. And it fundamentally how we taught and how we learned.
One could argue for the better or worse, I think for the better. It wouldnít have gotten traction. But if we can learn from history, weíre about to go through the same transition. And the interesting thing, itís not just about the big boards, itís about the tablets I have too, because with tablet PCís we have the slate. With the whiteboard now, how to they work together, especially it theyíre networked and so on. Those are the types of questions that, were I ďKing of the WorldĒ, I would have people working on.
CC: YOUíRE HEADING OFF TO DO SOME WORK WITH MICROSOFT. WHAT WILL YOU BE DOING?
BB: Well, given my first day is December 5th, all I can say is, Iíll let you know once Iíve started. But actually that would be a cop out. Obviously I know the kinds of things Iím going to be working on.
Iím going to keep working on the types of things Iíve been working on all my career. Thatís what they hired me for. They wanted that expertise and that background to come and basically help shakeup and influence the company. Basically I view it, that where theyíre bringing me in and so on, itís a respect not just for me but for the field and the discipline I represent. I think that speaks really well for them.
In some sense Iíve been one of the biggest critics of Microsoft on various times, and deservedly so at time. But you also have to say they have demonstrated an ability to really learn and change. And even though many things they had initially done when they came out had problems, they always get it right eventually and some of the things theyíve done have been brilliant. I think itís a wonderful challenge.
For me as a designer, you know, a child of the Sixties who wants to change the world, I can think of no place where I have a better opportunity to have really deep and strong influence than there. Theyíre giving me an opportunity. So, thereís no sure thing but how could I not do this?
CC: THANK YOU VERY MUCH, BILL.
BB: My pleasure.
Bill Buxton is a designer, writer, philosopher, and now senior researcher at Microsoft. He was in Alberta recently delivering the First Annual Alberta Ingenuity Lecture.

FEATURED LINK:
Bill Buxton's website
FEATURED LINK:
Read Bill's new book: Sketching User Experiences
FEATURED LINK:
What If Leopold Didn't Have A Piano (PDF version)