Program Item Details
TITLE: Neil Peters, VP Business Development, Userful

SUBJECT: #180 CTI 2005 Technology Showcase

SYNOPSIS: ..

AUDIO: Download Audio (mp3 format)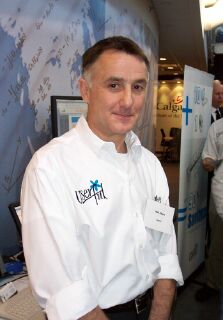 TRANSCRIPT:
#180 November 8, 2005
Interview starts at 15:57
Intro: Both floors of the Alastair Ross Technology Centre were packed with people touring the CTI Showcase taking in all the different displays and chatting with the people behind some of Calgary's up and coming technology stars.
Neil Peters
NP: My name is Neil Peters and I'm the Vice-President of Business Development at Userful Corporation in Calgary.
CC: USERFUL, NOW THAT'S AN INTERESTING NAME. WHAT IS THAT?
NP: It's a company that makes computer software that allows many users to share one computer system.
CC: WHERE DID THE IDEA FOR THAT COME FROM?
NP: From our President, Tim Griffen, who wanted to develop a shared library system and worked in conjunction with the University of Calgary to develop the initial prototype and we have funded it from there over the past three or four years.
CC: NOW HAS THAT BEEN A PROBLEM FOR PEOPLE IN THE PAST?
NP: Most people don't recognize it as a problem but when you're spending approximately $10,000 per user to maintain a desktop computer, they realize that it is a problem especially when we can save them about 90% on their total cost of ownership on those computers.
CC: HOW DOES IT ACTUALLY WORK?
NP: It uses a standard computer system that's a commodity type of item, PC made by Intel or AMD or whoever, it uses our special operating system that's a variant of Linex on it that allows you to plug multiple video cards into a standard computer and then hook-up multiple monitors, keyboards and mice and each person has their own virtual desktop operating system but sharing again one CPU, one set of ram, one network connection, one operating system–so there's a tenth of the expense overall.
CC: NOW YOU DEVELOPED THAT HERE IN CALGARY. ARE YOU ABLE TO TAKE THAT AND APPLY ELSEWHERE?
NP: We have been focussed on the public computing markets specifically libraries over the past three or four years since we've started and what we're doing now is unbundling that library specific system so that we can sell it to re-sellers who can take the basic ten-to-one platform that we offer and apply it to other specific vertical markets such as education, call centres, registration and voting systems, internet cafés, etc. Any place where's there more than one computer deployed in reasonable close proximity is a very good fit for our particular software.
CC: WHAT'S YOUR INVOLVEMENT BEEN WITH CTI?
NP: We've been involved with CTI since we've started for the past three or four years. We've provided them with an in-house internet café system that they allow their patrons to sit down and surf the web or do e-mail, etc. and we also share a conference space here so we use it for presentations any time that we have a number of people that we need to accommodate.
CC: WHAT DO YOU THINK OF THE SHOWCASE TODAY?
NP: It's been great. There's a ton of people here, lot's of good interest, nice to see a well-organized event like this in Calgary.
CC: THANK YOU VERY MUCH.
NP: You're very welcome Cheryl. Thank you.
Those were just some of the very talented people featured at the recent Calgary Technologies Inc. Sixth Annual Showcase. I spoke with Neil Peters of Userful Corporation, Jason Kumagai of Greenlee & Associates, Barry Wylant of William Dean Product Design and Husam Kinawi of Wireless Edge Canada.
FEATURED LINK:
Userful
FEATURED LINK:
Calgary Technologies Inc.