Program Item Details
TITLE: Layla Neufeld, Masters Student, Renewable Resources, University of Alberta

SUBJECT: #150 ACA Grants in Biodiversity: Wolves, Caribou and Seismic Lines

SYNOPSIS: ..

AUDIO: Download Audio (mp3 format)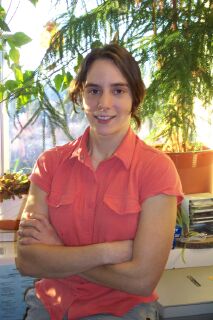 TRANSCRIPT:
#150 January 25, 2005
Interview starts at 20:25
Intro: North of the Ya Ha Tinda is the Little Smokey River. That's where you'll find caribou, wolves and Layla Neufeld. Layla is a Masters student working with Dr. Fiona Schmiegelow at the University of Alberta. Caribou are a threatened species in Alberta. And industrial activity is making that situation worse. The research that Layla is doing will eventually lead to better management guidelines for caribou. And some of her research is funded through the Alberta Conservation Association's Grants in Biodiversity program.
Layla Neufeld
LN: Well we're working with the Little Smoky Caribou Range and we're looking at two major things. One is how caribou and wolves use their habitat. Bascially, where they are, when they are and how they are there. And also we're looking at mitigation techniques of blocking seismic lines and how wolves use seismic lines.
CC: WHERE IS THE LITTE SMOKEY?
LN: The Little Smokey is basically halfway between Fox Creek and Grande Cache north of Hinton on the Little Smokey river.
CC: NOW YOU TALKED ABOUT HOW WOLVES ARE USING SEISMIC LINES AND MITIGATION THERE. WHAT ARE YOU DOING THERE?
LN: Well, the Caribou Range Restoration Project has actually collaborated with us and we had a great opportunity to look at how seismic lines can be blocked, essentially by falling trees over top of a line and whether this has any effect on animal movement through the caribou range.
CC: WELL, WHY IS THAT A CONCERN?
LN: Well it's a concern because past research has shown that wolves are highly efficient at moving on seismic lines. And we're concerned about that because the Little Smokey caribou herd is declining very rapidly. And we think there may be some connection there between wolves and caribou and industrial features. And we want to look at how to make it better.
CC: SO YOU'VE FALLEN SOME TREES ON THERE. WHY?
LN: Trees are one example of how we can reduce predator movement, or inhibit predator movement or at least slow predator movement down a little bit. Trees act as sort of a blockade, they impede movement. We're basically looking at whether this is a good method for slowing wolves down, or any predators on seismic lines.
CC: HOW ARE YOU WATCHING THAT?
LN: Well we have a couple of ways to monitor it. We're monitoring it first with remote cameras. So we have 34 remote cameras set up, actually we had, we've taken them down now…and they have an infrared sensor that is triggered when an animal walks by. And it takes a still photo of the animal that has walked by and so we've placed cameras on either side of the blockage to look at who is using those lines.
CC: DO YOU HAVE ANY PROBLEMS KEEPING THOSE CAMERAS UP AND RUNNING?
LN: Oh, we have a lot of problems with cameras. Bears really tend to enjoy playing with cameras. We have a lot pictures of moose heads and bear behinds and all sorts of things So yeah, there's definitely problems with them.
CC: WHAT DO THEY DO, CLIMB UP THE TREES AND GET THEM DOWN?
LN: Yeah, I think they really like the flash. They tend to come up to the camera, play around with it and grab it and pull it off the transmitters and all sorts of things. I mean, you see everything so it's a lot of fun.
CC: WHO'S GOING UP AND DOWN THESE LINES?
LN: We have all sorts of species. We've recorded black bears, grizzly bears, lynx, whitetail deer, mule deer, elk, caribou of course, and wolves of course. So we've got a lot of species using seismic lines.
CC: WHAT DOES THAT MEAN?
LN: It means that seismic lines are an important feature. And essentially in the Little Smokey, it's difficult to get away from seismic lines. 85% of the range is within 250 meters of a seismic line. So they are a ubiquitous feature and they're actually used by a number of species.
CC: SO YOU'VE GOT ALL THESE PICTURES, YOU KNOW WHO'S USING THE LINES. WHAT DO YOU TAKE FROM THAT?
LN: From the pictures we look at the rate of use, because we have to compare things equally. So we've set up cameras in control areas where we don't have seismic lines blocked and in treatment areas where seismic lines are blocked. We get from that a rate of use and we determine whether seismic lines with a block on them are actually deterring movement.
CC: WHAT IS THE RATE?
LN: The rate is very low because the cameras are up for a long time. The cameras aren't used very highly, so we have an animal every, oh its highly dependent on the line. But a busy line may have an animal three times, four times a day.
CC: SO OVER THE SUMMER YOU GATHERED ALL THIS INFORMATION, NOW WHAT ARE YOU GOING TO DO WITH IT? WHAT DOES IT TELL YOU? WHAT SORTS OF CONCLUSIONS DO YOU DRAW FROM THAT?
LN: Well it's important because people are looking at ways of getting rid of some of these industrial features. So this will be the first study to look at what's effective and what isn't effective. We can build on this and we can hopefully start to mitigate some of these industrial disturbances in the little Smokey Caribou range
CC: HOW WOULD YOU MITIGATE?
LN: Well, if this is effective, we can mitigate with this tree blocking program and we can block seismic lines. And deter animals from using the lines.
There are also other techniques that the Caribou Range Restoration Project has basically put out, things like mounding, tree planting, different ways of recovering seismic lines.
CC: YOU'VE DONE THIS ONE PROJECT, BUT HOW DOES THAT FIT INTO THE BIGGER RESEARCH PICTURE OF WHAT YOU'RE DOING OVERALL WITH CARIBOU AND WOLVES?
LN: We're working on a couple of different things in the Little Smokey. The first one is basically where animals are and modeling what they select for in the Little Smokey Caribou Range, both for wolves and caribou. And secondly we're doing this mitigation project.
We've basically put out a number of GPS collars. So these collars collect information and then tell us where the animal has been in the last year or five months or however long the collar was on. We put 17 on caribou and 16 on wolves in five packs in the range.
And we're looking at what animals use in that environment and what they select in that environment.
CC: FROM THE INFORMATION YOU'VE COLLECTED SO FAR, WHAT ARE SOME OF THE THINGS YOU'VE FOUND OUT ABOUT HOW THESE ANIMALS ARE USING THE RANGE?
LN: Well it looks like the animals seem to be pretty much everywhere. But we have to break it down into a little bit more detail temporally in different times of the year. So it's important to know where wolves and when wolves are denning because it's the same time that caribou are calving. And this seems to be the biggest period when caribou are dying, is during this calving time. So when we break it down into these smaller time periods, we'll start to see finer detail and hopefully, come up with some good conclusions that can be used in the future that can be used for somemanagement programs.
CC: WHAT GOT YOU INTERESTED IN STUDYING WOLVES AND CARIBOU?
LN: Oh, who doesn't want to work on wolves and caribou. I grew up in a very rural setting and this seemed like the most outdoors wildlife work that I could do, and I'm just generally very interested in wildlife and wildlife management. And working on animals that are close to home for me.
CC: AND HOW IMPORTANT ARE CARIBOU AND WOLVES TO WHAT'S HAPPENING OUT THERE IN ALBERTA. BECAUSE YOU HAVE SAID THAT THIS PARTICULAR HERD IS REALLY ON THE DECLINE.
Well that's a bit of a question that has some opinion in it. And you'll hear different answers to this question depending on who you ask. Wolves and caribou to me are iconic species of the boreal forest. And caribou, a threatened species in Canada, basically shows that somethings' going on, something is changing because all of our herds are declining , some stable, but most in decline.
CC: THANK YOU VERY MUCH.
LN: Thank you, Cheryl.
Layla Neufeld is a Masters student in the Department of Renewable Resources at the University of Alberta. She's a recipient of funding from the Alberta Conservation Association's Grants in Biodiversity program.
FEATURED LINK:
See Layla's pictures of seismic line traffic
FEATURED LINK:
Alberta Conservation Association