Program Item Details
TITLE: Chris Lumb, President and CEO, Micralyne

SUBJECT: #145 InnoWest 2004: Creating a Culture of Innovation

SYNOPSIS: ..

AUDIO: Download Audio (mp3 format)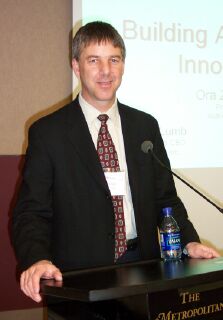 TRANSCRIPT:
#145 November 23, 2004
Interview starts at 15:13
Intro: Speaking on the issue of creating a culture of innovation at InnoWest 2004 was Chris Lumb. Chris is the President and CEO of Micralyne. This very successful micro-fabrication company got its start as a spin-off from the University of Alberta.
Chris Lumb
I would say that a culture of innovation is one in which innovation or change is welcomed within a company and sought after and which is part of what drives the company forward to make it a better place. To achieve its objectives, whatever those may be.
WHY IS THAT SO IMPORTANT?
Well, companies canít be static, especially technology companies. A technology company that does same thing next year as it did last year in terms of delivering exactly the same things to the same customers is basically going nowhere. And pretty much everybody I think who is running or working in a technology company is doing that because they want to see some application of the technology for some better future, whether it be a better product on the market, a bigger company that theyíre working for, or a more exciting job, something like that. And so a technology company that doesnít change is essentially dying. So they have to change.
Now, how do they change? They change through innovation. Because almost any change that you would think of would require innovation of some sort. It might be a new product that you bring to market. It might be a way of managing your supply chain differently. It might be a way of getting to market differently. It might be a way of making your product or service internally more efficiently. So thereís any number of things that could qualify as innovation. But I see it as THE core ingredient of growth of a company. And we all want our companies to grow.
MICRALYNE STARTED AS A SPINOFF FROM THE UNIVERSITY OF ALBERTA AND AS A NOT FOR PROFIT, AND AT SOME POINT YOU HAD TO DECIDE TO BECOME A PRIVATE COMPANY. AND THATíS WHAT YOU HAVE ADDRESSED IN THE SESSION TODAY. AT WHAT POINT DID THAT REALIZATION COME?
It was a gradual realization over several years. We had grown the commercial side of the business quite significantly. We were continuing to do that. And we realized that there were a number of limitations in staying a not-for-profit. I can list some of them, but one of them is as a not-for-profit, you have a different mandate. You have a mandate to provide some service consistent with your objectives as a not-for-profit company. In our case, it was a provincial economic development objective.
You canít raise capital within a not-for-profit company. You canít necessarily provide equity incentives to your employees. You canít be as clear as youíd like to be with customers about really who you really are Ė whether youíre part of the university, part of the government, whether youíre really in the business of providing service to customers or whether youíre in some other business? So there were a number of things that were limitations and we reached a point where we said the only way we can continue growing the company and realizing the potential weíve got in this company is to become a private company.
CC: IN DOING THAT THEN HOW DID YOU BRING ALONG PEOPLE SO YOU COULD THEN REACH THIS POTENTIAL FOR INNOVATION AND CONTINUED GROWTH?
CL: Well it wasnít just the people within the company. There were a lot of different stakeholders that were involved in going through this transition. We were owned by university, and we had employees, we had a board of directors and we had people within the university who were using our services to a certain extent, And so we had to be able to convey to all these people on their terms why it would be better, why the future would be better if we made this a private company rather than stay as a not-for-profit.
So because all these different groups had slightly different ways of looking at the company, it had to work for all of them. So we had to have a good vision of the future. We had to be able to convey it to these stakeholders in a way that it made sense to them. And it had to make sense for each of them in that they personally felt that having Micralyne be a private company was better than having it stay as a not-for-profit.
So a lot came down to having the vision, repeating it over and over, listening to the stakeholders and understanding what concerns they might have being able to address them. Being able to build the consensus amongst enough of these people that they felt it was worthwhile doing. So it was a long process and one where you canít just make a decision one day and go through a transition the next day. You have to get a lot of people on side.
NOW THAT YOU HAVE TAKEN THAT LEAP AND YOUíVE PROVEN THE COMPANY TO BE SUCCESSFUL IN THAT APPROACH, HOW DO YOU THEN MAINTAIN THAT SENSE OF INNOVATION, THAT CULTURE OR THAT FRESHNESS ON A DAY TO DAY BASIS?
CL: Itís a different world now than it was then in the sense that we were going through a major change and we went through that change and we grew company and now weíre quite well established as private company. So the vision of the future has to be continually recreated, maybe not every day but certainly every year anyway. Youíve got to be able to take a look at it. Does it still make sense? Are we achieving what we want to achieve? Are there new directions we should go in?
Many of the same principles apply, though. Youíve got to have a clear vision of where you want to go. Itís got to be compelling. Itís got to be able to be communicated easily. And it has to be something that people can get behind and buy into. And so we have to continue to do that all the time.
CC: THANK YOU VERY MUCH, CHRIS
CL: Thank you.
Chris Lumb is the President and CEO of Micralyne. He was speaking at the InnoWest 2004 conference on creating a culture of innovation.
Learn more about Micralyne by visiting the Innovation Alberta interview in Program #47.
FEATURED LINK:
InnoWest 2004
FEATURED LINK:
Micralyne's website
FEATURED LINK:
IA #47 Interview about Micralyne