Program Item Details
TITLE: Dr. Debra Rolison, Naval Research Laboratory, Washington DC

SUBJECT: #127 Why Science and Engineering Must Adapt to Women

SYNOPSIS: ..

AUDIO: Download Audio (mp3 format)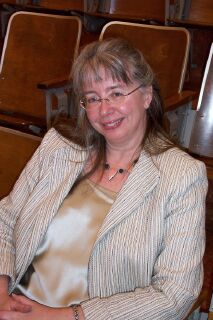 TRANSCRIPT:
Interview starts at 15:00
Intro: Another woman making great strides in the field of nanotechnology is chemist Dr. Debra Rolison of the Naval Research Laboratory in Washington DC. Debra was in Edmonton recently to discuss her work on fuel cells and nanostructured materials with other nano scientists at the University of Alberta.
Debra is also known for her outspoken criticism of the under representation of women In tenured faculty positions at post secondary Institutions. And statistics show that while the number of women graduating with PhDís in science has risen dramatically over the last three decades, they are bumping up against a male dominated hierarchy when it comes to getting hired. I talked with Debra about this disparity after listening to her presentation, ďWhy Science and Engineering Must Adapt to Women ď.
Dr. Debra Rolison
DR: I think Iíve always been observant, so Iíve been an uppity feminist since I was about five. So Iíve had a history of questioning male authority. And that has continued. Iíve written on this issue since the early 1990ís. But a lot of it gets brought home as you become more senior in your professional path and you can look back and see things that were unfair. Opportunities that you were not given. Things that you were told cannot be done, yet they would be turned around and handed to your male colleagues.
And as these things happen to women in science, for the most part they just keep plowing through. You know, theyíre there because they love the science. There are things they want to get done. And they just keep going for it. But when you see it happen to the younger women who youíve trained or mentored, you just get furious.
CC: YOU SHOWED SOME PRETTY STARTLING STATISTICS TONIGHT IN TERMS OF THE NUMBER OF WOMEN WHO ARE GOING THROUGH, BEING TRAINED AS PHDíS AND THEN WHAT HAPPENS TO THEM AFTERWARDS. WHAT DOES YOUR DATA TELL YOU?
DR: Well weíve done better in some disciplines, less well in others. But the trend has been more and more women earning PhDís in all science and engineering disciplines with time. The life sciences are doing very well. Theyíre over 40 percent. Theyíre approaching the demographics with respect to the population, particularly in the United States, of men and women who go to college. My discipline is chemistry. Weíre sort of in the middle of the pack. A third of our PhDís in the late 1990ís went to women and weíre holding at that general level right now. Computer science and math are down in the 20ís. And then engineering and physics are in the 15 percent range. So it is discipline dependent, but the numbers are better than they were 10 years ago and theyíre much better than they were 20 and 30 years ago.
So weíve created a wealth of talented women in science and engineering in our country, in Canada and in Europe. And these women are frequently the best in their graduating class. They do outstanding research. And then itís as though they have fallen off the face of the earth.
We donít see those women back in position of authority and influence in science and engineering. And that would be doing research in the best universities in your country. That would be running research groups and teams in industrial laboratories, in national and federal laboratories. Running your own company. Perhaps running a professional society. Where are these great women?
CC: YOU SUGGESTED THAT THESE INSTITUTions ARE BEATING SCIENCE OUT OF WOMEN, BEATING THE LOVE OF SCIENCE OUT OF THEM. WHY DO YOU SAY THAT?
DR: That was brought home to me by one of my post-doctoral associates. She came out of one of the Ivy League universities in the United States. As so, a very prestigious educational path. And she knew a lot of students, she was a great networker. So sheís not someone who was isolated from her world at this Ivy League school. She knew a lot of her fellow graduate students and post-docs. And she can look back having been out of that university now over 7 years and just really see these people she knew well who were bright and ambitious who were pretty much burnt out with their experience at this Ivy League school.
And then she looked at my path. I came out of the University of North Caroline which in my particular discipline is a top 5 school. And I was working in a PhD program with a research advisor who has trained some wonderful people over his 40 years of being in the university system. And my former post-doc has now met between 10 and 15 of these former PhDís of my old PhD advisor. And she goes, ďYou come out of that group and they still love science. They love to talk about science, they love to grapple with scientific issues.Ē And she can look at the people she came through with and there are only a handful who still want to do that.
So it really does matter what the environment is in which you are trained, in which you do your research. You still work hard, but that human aspect of it can make all the difference.
CC: YOUíVE ALSO OBSERVED THAT WOMEN ACTIALLY HAVE TO WORK HARDER AND NOT EVEN TO GET AS FAR. WHY IS THAT? WHATíS HAPPENING THERE?
DR: Well, fortunately thatís not a statistic I just made up. Sociologists and psychologists have done studies for decades to look at how men and women accultured in their particular society. And this inbuilt sense we have, men and women, that the man is just the better deal. He might be stronger or smarter, or isnít going to get pregnant and disappear. If youíre going to bet on a person with staying power in a profession, maybe you should then bet on the man.
And so we have statistics that show that when the quality of the education and the productivity is the same, the preference is still to hire the man. So you can have, if you will, equal candidates and the preference is for the man.
CC: YOUíVE BEEN FOCUSING AROUND SOMETHING CALLED TITLE NINE AND YOUíVE ACTUALLY GOTTEN SOMEWHERE WITH IT. WHAT IS TITLE NINE AND WHAT ARE YOU DOING?
DR: Itís a 30 year old law in the United States and it was pushed by recognition that industries, companies, but particularly universities who had federal funds had to actually not discriminate. And so it was pushed to get women into graduate programs in law school, in medical school, and engineering, science programs. So it simply says that thou shalt not discriminate on the basis of sex in any educational activity that receives federal funds.
In the United States itís infamous because there were many court cases where people tried to get it applied with respect to womenís sports in the universities and the high schools. And it took a lot of lawsuits, but it was finally agreed that yes, you cannot discriminate in the athletics programs. And people have felt that itís perhaps been over applied, that the male sports programs in colleges have suffered because the universities have had to put resources into the womenís athletics programs.
But one very interesting statistic is that now, 42 percent of the collegiate athletes in the United States are female.
CC: HOW DO YOU APPLY THAT TO SCIENCE THEN?
DR: The thinking again is itís still a federal activity to be a faculty member. Therefore, if you can Look at the statistics to show that there is this candidate pool of women with PhDís who are potential faculty members and for some reason, you cannot hire them, then that is a statistical imbalance which is potentially addressable by Title Nine, which can get federal funds removed.
CC: NOW HOW KEY IS THAT HAVING THE FUNDS?
Well again, thatís where the sports have been very instructive. There is no university in the United States that has lost funding for a Title Nine breach. And yet thereís this huge fear that they will get audited and they will lose their funds. And so Title Nine has been a threat, a mechanism, to bring attention to equal treatment, to men and women in the university system.
And so, people are first clued to it as students, predominantly for sports, but the law is far more encompassing than that. And it can be applied to faculty. As far as I know, the primary use in the early days was to get the faculty club on campus open to the women faculty. They had to sue for that because they were forced to use the wives club. And they said, Iím faculty, canít I use the faculty club? And as far as I know that was the primary use in the early days of Title Nine with respect faculty. Itís been predominantly focused on students.
CC: ON YOUR LIST OF THINGS THAT NEED TO CHANGE, AT THE TOP WAS DAYCARE. WHY?
DR: My friends, my female friends in the university are very proud of me for putting that first because I have no children. My biological clock was not set at the factory. That wasnít something that I made a conscious, agonizing choice. Iíve just never really felt the need to have children. But a woman and a man who have children and want to be real parents, they cannot just ignore those kids. So anything the university does with the modern world has to incorporate family responsibilities. And children are going to be a huge part of that. So that has to be Number One on the list. This recognition that young men and young women coming into create strong careers are also going to have families and you cannot expect them to ignore that.
CC: YOUR TITLE NINE EFFORT HAS CAUGHT THE ATTENTION OF A SENATOR AND THE CONGRESS AND YOU ACTUALLY ENDED UP WITH SOMETHING IN A BILL THAT WAS SIGNED BY PRESEIDENT BUSH. WHAT DOES THAT SAY? WHAT DOES THAT ACT MEAN?
DR: Itís really the starting point. Youíve got to have numbers, you have to have statistics. You canít just run on instinct or suspicion or a story you heard. You really need numbers. So the Congress recognized that. They authorized the National Science Foundation to fund studies that would generate numbers with respect to science and engineering faculty in the United States/. Now thereís not enough money to do this with the breadth and the depth that needs to be done, so the National Research Council, which is the study arm of the National Academy of Sciences, is doing a study looking at gender differences in faculty in science and engineering and math. But they have to sort of downselect the universities theyíll look at. They cannot look at them all.
The Rand Corporation is looking at the federal R & D investment on the function of gender. But theyíll probably start with the NSF funds, the National Science Foundation funds. My guess is theyíll probably look pretty good, because NSF has been in the forefront in the United States at trying diversify how the funding has gone out the door.
Then, the most intriguing study to me again was spearheaded by Senator Ron Wydon at Oregon with Barbara Boxer at Oregon as his ally to go to the General Accounting office to get an audit of a handful of universities and national laboratories with respect to Title Nine compliance with respect to science and engineering and math. And to me, thatís the study that will come out first and it may have the most impact because the GAO is the congressional audit arm.
CC: FOR A YOUNG WOMAN WHO IS LISTENING TO THIS WHO IS CONSIDERING A CAREER IN SCIENCE, WHAT DO YOU SAY TO HER?
DR: Science is outstanding. You can see why people do it around the clock. Because itís always a challenge. Thereís always something new to learn And itís constant exploration. Itís the most intellectually stimulating thing I can imagine doing. And if thatís what you want to do with your mind and your life, science is a great way to do it.
But I also think that we have to be more encompassing of patterns that are not around the clock. People who can put in a 50 hour week and still build in the other things in their life that need to be done. We can still have great science done that way.
So I might work around the clock, but I donít insist my staff work around the clock and I donít insist my post-docs work around the clock. And we get a lot of really great science done. So it is doable, it can be done in a good collegial teamwork fashion. And when that happens, you have people who want to work with you, do research with you, who want to collaborate. I have no trouble getting American post-docs at the Naval Research Laboratory. And those are premium product. I work at a Navy lab. I have to have US citizens. And I have no trouble attracting them. And itís because itís fun science. Nano is on the cutting edge. And people know our reputation for getting interesting stuff done in a good working environment.
CC: THANK YOU VERY MUCH.
DR: Thank you
Dr. Debra Rolison is a chemist and nano researcher with the Naval Research Laboratory in Washington DC.
FEATURED LINK:
Biography
FEATURED LINK:
Read Dr. Rolison's article on Title 9